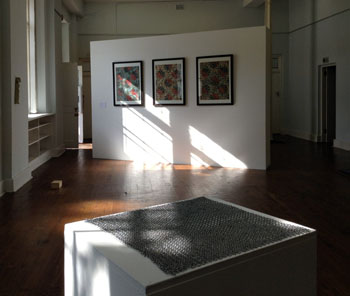 The two are taken to be in opposition - as much our inheritance from the Industrial Revolution as the advancements of that age - for whilst the first automated loom, the Jacquard Loom, revolutionized the industry, it also put many operators out of work.
David Mabb looks to the responses to that earlier age of the machine as represented by two significant socialist-based design movements with opposing beliefs, the English Arts and Crafts movement (1840s-90s, England) and the Russian Constructivists (1920s-40s, Russia). In England, protests by displaced textile workers lead designers such as William Morris to question the impact industrialization had on design, skill, and the lives of ordinary people. His solution was to return to a past when men worked and were valued as artisans; a return to nature and art as the source of wealth and comfort, such as in the Medieval period (we can see the influence of the designs of that period, with its rich colourings and patternings, on Morris' work). In contrast, the Russian Constructivists, prompted by the utopian climate following the Russian Revolution, rejected the past in favour of the future, and advocated a move away from labour intensive modes of production to industrialization (the aesthetics of artists such as Luibov Popova were based on the geometric and angular, to reflect the qualities of precision, impersonality and order made possible with machines). In his work Mabb tries to juxtapose both Morris' and Popova's iconic patterns in aesthetic balance so as not to favour one argument over another, instead calling equal attention to their ideas.
Fabian Saptouw addresses the value of the man-made versus machine-made by hand-crafting items that are commonly mechanized. To make "Chainmail", Saptouw hand-cut and -rolled 1.5 mm gauge steel wire, and linked it. Look closely and we can see that despite his meticulous work, the links are irregular. Such irregularity means his chainmail fails as a protective industrial good, but the "hand-made mark" of the maker elevates its value as an artwork.
Mabb's and Saptouw's works raise complex questions about how we value the man-made and the machine-made, and in this way, how we value man and machine?