Table tops
Giacomo Picca

public project
5 - 8 July 2007





"Table tops" is a public project with artist Giacomo Picca walking through Islington - a borough of mixed demographics -- mapping his route and engaging locals in dialogue, particularly about their cultural histories and links to the present day.
The aim is not to look at issues like immigration on a political scale, but to interact with the public on a personal level. Post-colonial theorist Homi Bhabha argues that cultures – and nations – must be understood as "narrative" constructions that arise from the "hybrid" interaction of contending national and cultural constituencies. Picca's project aims to explore this on its most fundamental level, one on one.
The project will be documented by having the locals write/draw, however they see fit, their conversation with Picca on scraps of (locally-sourced) fabric. Picca will then "weave" these responses together as a manifestation of cultural "hybridity". The piece will be exhibited as publicly as possible, with viewers invited to further add to the conversation by adding to the woven quilt.
"Table tops" is the 3 rd in the series of the Gallery's exhibitions looking at identity and multi-culturalism. This project continues the query Picca started in the 2 nd of the series, the drawing show "Geography is a Flavour™".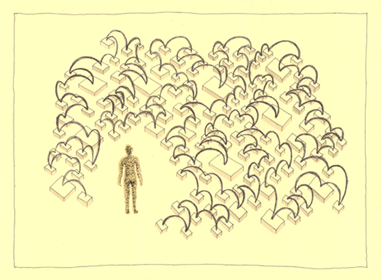 Open
Invitation and Map as a .pdf document: Tabletops