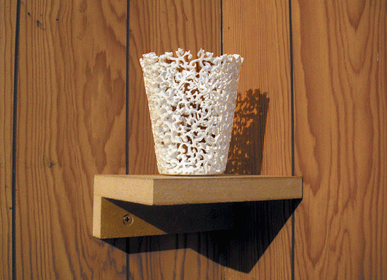 Emma Holden's "Ethereal", styrofoam cup
Why a show on garbage? Is there any point in considering refuse and waste?
(left) Leo Fitzmaurice's installation "e Box Cityscape" made of various packaging
(right) Paul Whittering, 1 image from the "Bin" series
The five artists in our show seem to think so: they seem to have found a method to process the detritus and waste which we usually ignore and to extract aesthetic meaning and emotion from it. They use junk mail or discarded packaging to construct cityscapes; they photograph rubbish, paint dirt, and record wastelands on video and make art out of litter. The resulting work is diverse in form and feeling, but all of it asks us to consider junk as the archaeological strata of our time.
(right) Catherine Hughes' watercolour, "Emporium"

Open this exhibition programme as a .pdf document: On Garbage .