Archive > new neon works - Jose de Guimares

January 2006, London Art Fair -- (selected) Project Space

This is the first London solo show for José de Guimarães. Guimarães has been working as an artist for over 40 years, and his works are in many public museums and galleries around the world. Guimarães was born in Portugal but his work reflects his interest in the synthesis of different cultures. For this show, we will be showing recent works, including those using neon lights, in addition to his characteristic paintings, sculptures, boxes and relics. Guimarães is represented by the Paris-based gallery Galerie Helene Lamarque.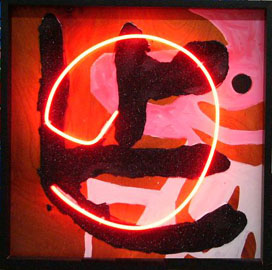 José de Guimarães was born in Portugal and educated throughout Europe. In the seventies, he spent seven years in Angola immersed in the study of African ethnography and art. It is at this point that Guimarães' fascination with the synthesis, the osmosis, of different cultures began. And it is at this point he says he became an artist.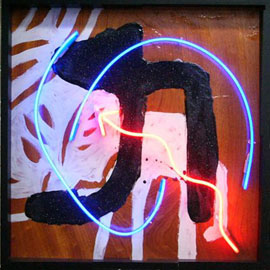 He developed an "alphabet" of symbols. It started ideographically, but quickly became less tied to a place, more universal, more automated. The aim was to capture an idea that was trans-cultural yet personal, a metamorphosis of European and African archetypes and ideas. He has since journeyed to Asia and Mexico, and his alphabet has evolved to incorporate his experiences and observations from these other places.

The works are thus a combining and a superimposing of symbols, prototypes and myths. But they are not just anthropological: they also have philosophical implications. In assimilating, metamorphosing, Guimarães is interested in the expansion of the Being. As the artist states, "my creative purpose has a true sense of interconnection among the different cultures I have deeply observed in order to produce a peaceful and a utopian melting pot of cultures." For forty years the artists has created baroque work, exuberant with complete freedom and spontaneity, trying to capture the range of universal human joy and tragedy.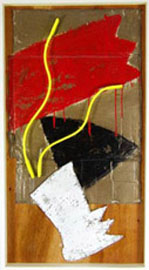 Link to London Art Fair Website: "London Art Fair 2006"

Open Press Release as a .pdf document:"Press Release".