unintended

consequences

6 oct - 5 nov, 2011

emma holden
hilary jack

please scroll right for press release and some in situ images




"herd 1"
hilary jack
One of the ways we learn is by categorizing – this is like that but not like "that".  Ideas can come to sit in more than one category and thinking need not be constrained inside the "box", through building links in a semantic network.  What is not understood is how the links are built.  We explore this in our exhibition with Emma Holden and Hilary Jack.   

Emma Holden focuses on the minutiae and complexity of humble weeds.  Her detailed drawings seem to start with one mark, and then to expand.  They can be read as mappings of the plant's systems, abstract traces of what cannot be seen, and thoughtful fantasies of their inner lives.    

Hilary Jack collects the discarded, broken ornaments, animal bones and antlers, plant stems and roots.  She carefully, but visibly, replaces the breakages with other found parts.  The results are strange hybrids, at once beautiful and tense.

Are the links of thought like Holden's artworks, multi-formed and organically-grown?  And / or are they like Jack's, awkwardly built, but with serendipity?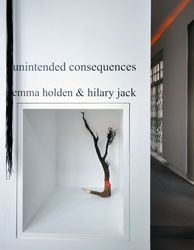 Hilary Jack,
"herd 2",
stick, antler, new clay, gold leaf
2010
(rollover image for detail)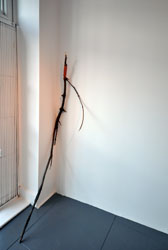 Emma Holden,
"Brier",
pinpricks on paper,
84x59 cm,
2011
(rollover image for detail)


Emma Holden,
"Revival",
oil, acrylic on canvas,
59x84 cm
2011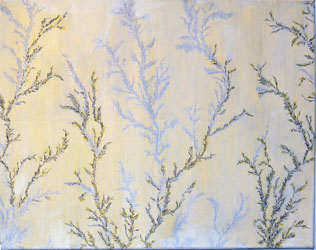 <please click here for press release as pdf>