Rules of the game: value and money
a series of talks

Series 1: The public and private role of art
13 Apr (past)
Jeni Walwin, curator, & Alana Jelinek, artist
for curator summary & Walwin transcipt,
please scroll right

Series 2: On money
13 May, 6-8pm
Stefano Decesaris, financial trainer
Winnie Sze, curator
for details on talks, please scroll right (past series 1 info),
or to download as pdf <please click here>
to reserve a space <please click here>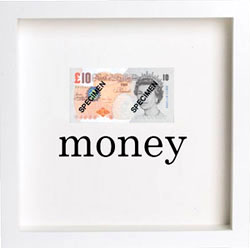 AUGUST art is pleased to host a series of talks "Rules of the game: value and money", exploring price and value in art as well as the general economy. 
Is price value?  We know it is not, but may still feel frustrated over prices which appear "unfair", whether those of art works, food, branded consumer goods, wages… Perhaps because we inherently associate value with meaningfulness, and want our economic system to make sense.  In our series of talks, we will explore price, money, and value.
The talks are given by specialists but aimed at non-specialists who are interested in understanding our economic valuation system more critically.  Q&A follow talks, with light refreshment provided.  Talks are free but reservation is essential (at info@augustart.co.uk)
Series 1: (past)
13 April
6-8 pm
Value, money and art practice - the public and private role of art
In the first of the series we explore the place of art within the wider economy. In the current economic climate of constrained budgets, who places value on art and how are these judgements made?
Independent curator Jeni Walwin will speak on "The value of art for non-art contexts". 
Jeni Walwin works in a variety of public and private contexts to create opportunities for contemporary artists to influence our experience of a particular site or situation.  In her presentation she will outline the different ways in which her clients establish the value of working with artists.  The diversity of her clients and the breadth of Walwin's experience should add rich insight into the place of art outside the gallery. 
Artist Alana Jelinek explains "Why the market is great for art" in a performance piece.
In the personae of a public relations guru for the fictional mega-conglomerate BLACCXN, the artist explains her employer's philanthropic sponsorship of the arts.  Jelinek's work should provide a questioning and thought-provoking take on the values of the art market.
For curator's summary of talks,
please click <here> pdf 1.5 mb
For transcript & slides from Jeni Walwin's presentation, please click <here> pdf 3 mb
Series 2:
13 May
6-830 pm
On money
The second set of talks focus on the concept of money itself.
Financial trainer Stefano Decesaris presents "Money: do we understand it?"
Through an inter-active exercise attendees help build a money economy.  We explore how prices come to be, how they inflate (and deflate), how they are linked – or not – to underlying production.  We also ask the question can an advance society do without money?
AUGUST art curator Winnie Sze explores "Art as money?" (revised topic).
In the 1st series, we explored the "non-money" value of art; in this series, we look at the "money" value, by literally comparing art to other forms of money. If money serves as a currency of exchange, how well is art suited to that role? If money, as investments, earns returns, in what way does art do that (or not)? We hope this to be a critical exploration of the way some art has become another financial product, and whether this should matter (or not) to art in general.
To download W Sze' s powerpoint & transcript, please <click here>
To download press release, please
<click here>
Summary biographies:
Jeni Walwin is an independent curator, writer and public art consultant. She is the project director of the public art programme Artists in the City and for many years has worked on a project basis for the Contemporary Art Society. With Graham Devlin she devised a contemporary art strategy for British Waterways, and for WOMAD festival 2010 she curated Moving Portraits: Artists' Films – People and Place. With the artist Henry Krokatsis she conceived and selected the exhibition You'll Never Know: Drawing and Random Interference for the Hayward Gallery's National Touring Programme. She is a member of the Advisory Board of the Drawing Room and a trustee of Crying Out Loud.
Alana Jelinek's BLACCXN project is ongoing from 2004, and has been performed at the Whitechapel Art Gallery, Tate Britain, Tate Modern, and other institutions, as well as at guerrilla happenings … The project arises from her PhD at Oxford Brookes, art as a democratic act: the interplay of content and context.  Some of her other recent projects include "the field" an experimental collaborative project investigating art and science located in a field near Stansted airport with Terra Incognita arts organisation, and "Tall Stories and Cannibal Forks" a research and exhibition at the Museum of Archaeology and Anthropology, University of Cambridge.  Upcoming is This is not art, published by I.B. Tauris 2011
Stefano Decesaris' main occupation is teaching finance to investment bankers; he is also a visiting lecturer at Cass business school.  Stefano's finance career started in 2000 at Goldman Sachs.  Alongside finance, Stefano has a strong interest in health and mind/body therapies.  He is training in body-based psychotherapy and since 2004 has run a weekly support group for people suffering from social anxiety.
Winnie Sze studied fine art with Jeff Wall and mathematics, and became an investment banker until she returned to contemporary art in 2004, opening and curating AUGUST art.   She teaches finance part-time and provides pro-bono financial advice to various charities.